$30,100
2004 Sea Ray
270 Sundeck
NAPLES, FL Great Price
$230,000
2009 Contender
33 Tournament
NEW PORT RICHEY, FL Great Price
$150,000
2017 Chris Craft
Calypso 26
SARASOTA, FL Great Price
$63,000
2019 Key West
219 Family Sportsman
KEY WEST, FL Great Price
What is a used boat worth?
Use the BoatCrazy boat pricing tool to find used boat values, used boat prices and the market value of a boat you want to sell or purchase. The Blue Book or KBB for boats.
Find Prices and values for power boats, sailboats,
personal watercraft, outboard motors and trailers.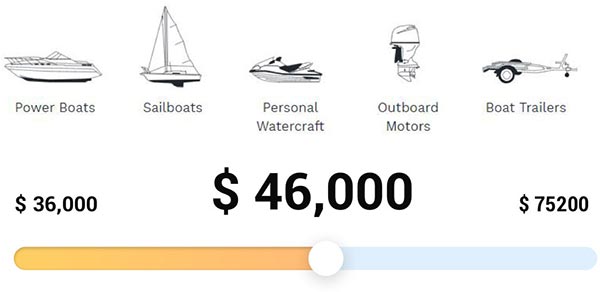 5 Ways to Make Your Boat More Attractive to Potential Buyers
What Is The Value Of My Boat
Learn More About How to Sell Your Boat on BoatCrazy Discover.
When deciding on how to sell your boat, be prepared and read up on how the pros do it. Do not undervalue your investment, learn how to maximize your boat sale.
Unlock Your Boats Value Today.
Find your boats price range in as little as 30 seconds!
100% Secure, Private & Confidential. Values provided by Our ABOS Marine Blue Book Online . The broadest range of detailed boat specifications and market valuations. Covers 1976 to current year models of inboard, stern drive, outboard powered boats, sailboats, pontoon boats, houseboats, personal watercraft, outboard motors, and boat trailers. Users can make custom adjustments for engines, trailers on packaged boats, condition, and popular optional equipment. Updated quarterly on 3/1, 6/1, 9/1, and 12/1.