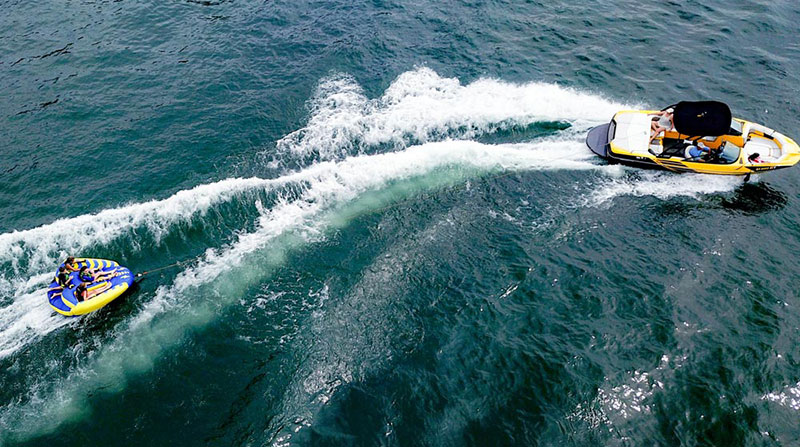 For Fun on the
Water

.

Fish and Ski boats are popular Multi-Use vessels great for family fun and activities like fishing, watersports and cruising. Often these boats are configured as bowriders which are conveniently designed for easy access to the bow for fishing or sunbathing. Bowriders commonly have Sterndrive engines are often the aesthetic choice because they're entirely out of view and they leave more deck space for launching skiers or tubers.

Search Available Fish & Ski boats Value Your Fish & Ski boats
Fish & Ski boats FAQ
How much does a fish & ski boat cost?
Fish & Ski boats are listed on Boatcrazy with prices starting as low as $8,000 up to $174,000. With New boats costing upwards of $350,000
Can a Ski boat be used for Fishing?
For an all round great family fun platform, Fish & Ski boats can support all kinds of water activities. From fishing and skiing to borders and tubers, they are great do-it-all boats!
How much is insurance for a ski boat?
The general rule of thumb when it comes to calculating average boat insurance prices is that you'll pay about 1.5% of the value of your boat in annual rates. The boat's horsepower, boats with stronger engines, like powerboats, often have higher rates. Also the boat's age is taken into consideration.
What are the advantages of a fish & ski boat?
Generally, these boats are built as bowriders, which means that there is seating in front of the controls. This makes the boat very versatile with areas to sit, fish and sunbathing. Many of these boats don't have traditional outboard engines. Some of the newest boats used for fishing and skiing are jet boats, giving them a tremendous amount of power and speed.
Does a fish & ski boat hold its value?
In general, boats lose about 36% of their value after 10 years of ownership.This is considering the boat being properly maintained and kept in good overall condition.
Is it better to buy a new or used boat?
This is always a great debate - both with variable options. Obviously, your budget will always play a part in buying a boat. A new boat will offer you plenty of options such as special offers from dealers and good options for insurance. Whereas, the price will be lower on a used car, and much of the depreciation has already happened, so the boat will hold its value better. There are plenty of bth options available on Boatcrazy.